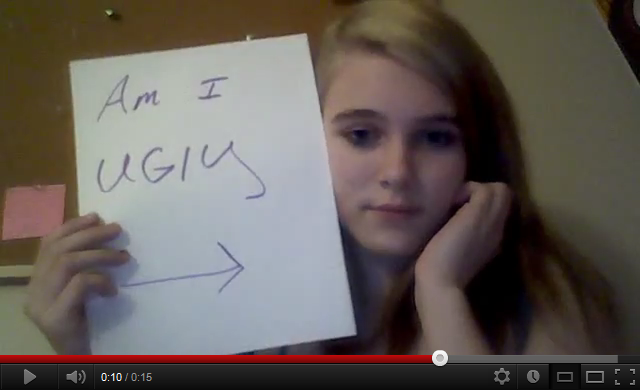 Today I became painfully aware of a disturbing phenomenon in You Tube: 500,000 videos of young girls asking the same question over and over: "Am I pretty or ugly?".
At the beginning I thought they were just a few isolated cases and that it would be interesting to include them in a separate playlist for our You Tube channel, but then my playlist started to grow and grow until the number of URL links associated with this search started to become overwhelming.
So I decided to investigate further: how many of these videos are actually there? 100, 200, 1000, 10,000? Apparently much more than that: 500,000 (and still growing by the day).
These videos are not pranks or acting: they are made genuinely by young girls who are simply insicure about their look, seeking strangers' approval, whatever that might be.
The scary thing is of course that:
the phenomenon touches mostly only girls (so far I found just a few exceptions)
many of these girls are incredibly young
their videos are not monitored or removed from You Tube despite their young age
these videos provide an irresistibile tentation for the millions of trollers and cyberbullies out there, just waiting to unleash their hateful comments.
Indeed if you scroll down through the long list of comments for each one of these videos you will invariably find many spiteful ones and I wonder how much damage has to be done before some action is finaly taken.
British performance artist Louise Orwin is trying to raise awareness of this growing phenomenon by starting her own "Pretty Ugly project", a three-part experiment involving her own (fake) "I am Pretty of Ugly" (POU) clips, a live performance in London, and a call for feminist dialogue and debate.
I am including below the link for other three videos discussing this alarming trend:
http://www.youtube.com/watch?v=NrdK4diJurM
https://www.youtube.com/watch?v=16KBFq4PxtQ
You can also have a look at the relevant MSG's playlist if you want to watch a selection of these POU's clips in one place – but I warn you: it does make for a pretty depressing watch… 🙁