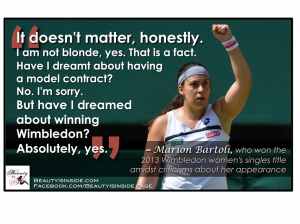 Why a man sport commentator feels he has the right to judge and criticise a brilliant woman athlete on the basis of her appearance?
Read the full story here:
http://ftw.usatoday.com/2013/07/marion-bartoli-john-inverdale-bbc-not-a-looker/
This is an example of the widespread sexism permeating media culture. Would you imagine a comment of the same type being made towards a man athlete?
Is this kind of messages the media transmit to girls and women on a regular basis and this is from the BBC sport commentary, not a glamour or reality TV show!
After received thousand of complaints regarding the comment the BBC released a public apology…
Was the guy penalised or sucked for his behaviour? Certainly not!
…and I guess this is the reason this kind of comments continue to exist around women athletes…