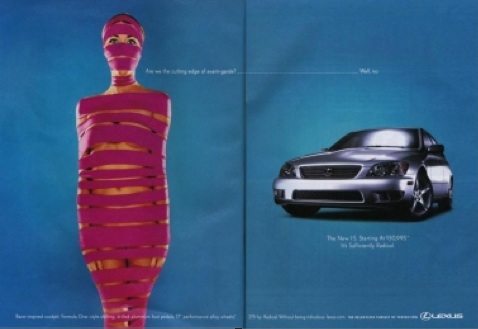 I just thought I should add a link to this state-of-the-art documentary by Jean Kilbourne.
This is one of the first documentary I watched with regards to women's sexualisation and objectification in advertising (and it remains to these days one of the best I ever watched on the topic): it has now been released in 4 different editions
Jean Kilbourne on her documentary "Killing Us Softly".
Browsing around the web I found the comment of an American college student who had the chance to watch it as a part of the school curriculum:
"For the first time in my college career I did not fall asleep watching an in-class video. Killing Us Softly 4 by Jean Kilbourne was engaging, relatable, and just interesting all around. The film depicted the way women and men mostly women, are portrayed in the media. Kilbourne gave many examples of ads and commercials where ideals of femininity are distorted and destructive.
This generation understands that everything in the media is not necessarily realistic but this film definitely opened my eyes up to how blatant and incorrect the media is when it comes to its negative portrayal of women. Advertising depicts images and messages that are unhealthy and unrealistic perceptions of body image and sexuality. I do believe that these ads are the main reason that there is such a high rate of females with low self-esteem and suicides in females today. With the constant portrayal of women being tanned, skinny, having large assets, and long hair, females have begun to think that this is what they need to strive to become otherwise they are far from perfect. Well in reality no one is perfect and there is no one perfect body type for a woman. Women come in all shapes and sizes, which is what makes us such unique and beautiful creatures. In reality the type of women that are depicted in the media are unattainable. This is the reason why plastic surgeons are rich because women are constantly going to them to enhance something on their body. Unfortunately by making all these physical changes, women are not becoming the "perfect woman", they are just covering up their insecurities. So in the long run plastic surgery can only do but so much; it is a short-term cure for a long-term psychological problem.
I am grateful that I was always taught to love myself for everything that I am. Truthfully when I was a teenager I did try to look like the women I saw on television or in magazines but as time went on I realized that those women are not me, and can never be me; that is why I am special and unique!" (JPalm88 – blog post, April 18th 2011)
The comment shows how, for many young women, resource like this represent a real eye-opener. I would be interested to hear comments from my readers on whether they would consider such a resource useful or appropriate in primary schools (perhaps at age 10-11): how early is too early to introduce young girls (and boys) to this analysis?