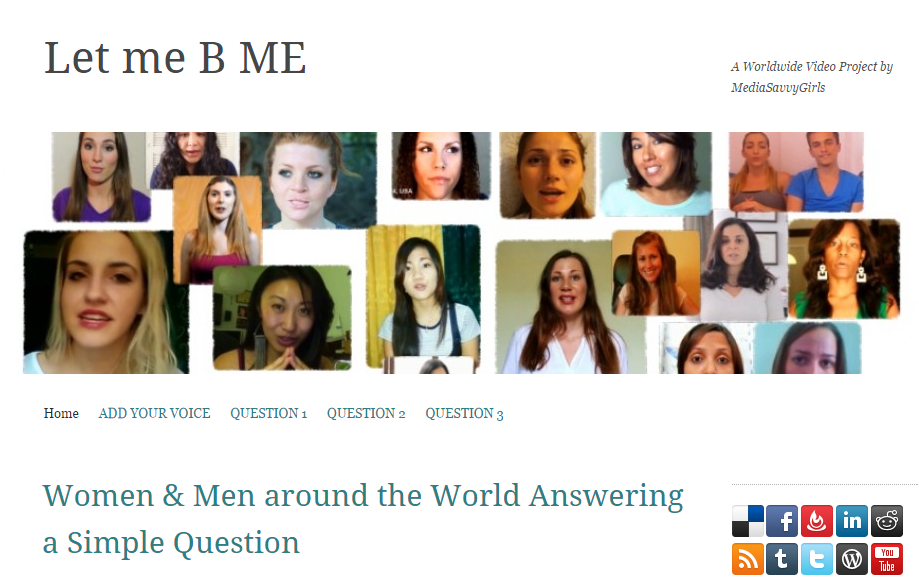 by JL Field (Canada)
I can vividly remember the first time an image in the media truly impacted my self-image; it was back around the turn of the millennium, when I was enduring that awkward, spotty, slightly pudgy preteen experience so many of us go through. I desperately wanted to emerge from that chrysalis, to find my adult being, to establish a sense of personal power over myself and surroundings.
I opened a fashion magazine, and I saw her: Incredibly thin—I can still remember the bone-white elegance of her frail wrists to this day—immaculately airbrushed skin, face with barely a hint of visible makeup (as was popular at the time), and simple, millennium-sleek powder-blue jacket and plain white tank. She had brown hair and eyes, just like me. I wanted to be her; I don't know why. Something in her cold grace called to me, became my personal idea of perfect, the measure against which I compared myself for years to come.
"Perfect" is a word you'll hear echoed a lot by the various participants in the LetMeBMe project, a revolutionary new initiative launched by Media Savvy Girls. This worldwide video project has gotten underway by asking women from many diverse backgrounds to share—in 45 seconds or less—what they would like to see changed in the media's portrayal of women. This question is to be the first in a series of three, aimed at shedding light on the unique needs, values, and voices of women around the world. LetMeBme was initially developed for girls and women alone, but after receiving many comments from men and boys, the creator of the project realized how important it was to include their voices too. As the recent UN "He4She" campaign so aptly put it, "Gender equality is not only a women's issue, it is a human rights issue."
The format of the LetMeBMe project will be, I feel, a large part of its success; it is brilliant in its brevity and simplicity, easily digestible by the social media generation while remaining personal, poignant, and powerful.
The answers to the main question really struck a chord with me. So many different women and men — over 100 have already contributed to the video project by posting their video with the hashtag #letmeBME, which shows strong signs of going viral — from so many different countries are echoing similar statements: a sad comment on how obviously flawed the media's current portrayal of women really is. The majority of contributors speaking cited the need for a rapid and thorough end to the unrealistic expectations of physical perfection and the limiting, idealized stereotypes regarding female roles and behaviour. Instead – say these people- we need more realistic, multifaceted depictions of women as complex, flawed people whose beauty is found in the inner strength that allows them to carry on despite adversity, not in their superficial blessings and the unrealistically perfect lives that are always shown to accompany them.
I couldn't agree more. Nobody has ever given me an "opt out" choice for any of the tragedies or hardships in my life because I look a certain way or because my body is a certain shape, and I think when I realized that—when I realized how irrelevant many of these superficial qualities the media so wholly focusses on in women are to the actual story of life—I realized the phenomenal lie we as women are told by the media on a daily basis.
How we look is not who we are. You are not actually likely to be any more successful or happy because you are a size 4, a certain height, or look younger than you actually are— trust me! No such qualities, no matter how much they match my old concept of "perfect", have helped me overcome a single struggle that I have faced; instead, my brain, my tenacity, and above all, my positive and enduringly generous attitude, have carried me through.
By telling young women anything else, we are rendering them ill-equipped to deal with the struggles their lives will actually present them with, giving them the wrong tools to deal with the challenges that the world will, almost certainly, throw at them.
A message countering that lie in this medium has, if you ask me, been a long time coming. While the occasional video project empowering women has made quite a splash on mainstream media during the last decade or so, too many of those have been the buzz-grabbing brain-children of corporations (think Dove's "Real Beauty" campaign). While such campaign's as Dove's are not entirely without merit, they not only inherently involve a certain level of hypocrisy ("You're beautiful the way you are—but buy this product to make your flat hair look more radiant"), they verge on being all-out patronizing to women, such as the by-now infamous "Patches" series, in which Dove evidently went out of its way to find women insecure and naive enough to believe that wearing an empty patch would "make them look more beautiful." When the women were told the patches were fakes, Dove was on hand to film their reactions, as if making a fool out of "real women" on national television would help the self-esteems of women everywhere.
Personally, I feel that treating women as though they need a corporation to enlighten them, to enable them to see themselves as they really are or to measure their own potential, is an inherently flawed approach anyway—and that's why the LetMeBMe project is so inspirational. LetMeBMe puts all of the power in the hands of women themselves, with a complete and truly refreshing absence of agenda. It simply lets us speak. More importantly, I find the inclusive nature of the project – the fact that men and boys are not excluded from the conversation – absolutely crucial in these days and time. As a contribution to the empowerment of women and girls everywhere, this raw, individual emphasis on the female voice is long overdue and truly invaluable.