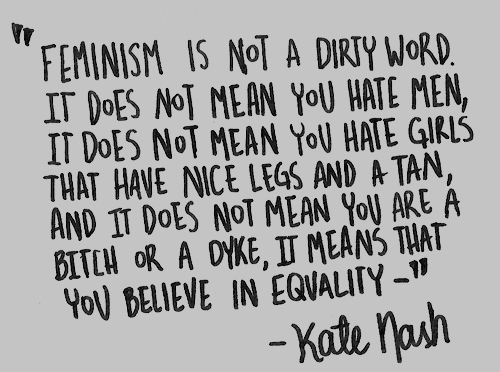 I found this lovely quote in a teenager girl's blog, in a post where she explains why she is a feminist, (via http://hijabihomegirl.wordpress.com/2013/07/26/i-am-a-feminist/) and where she highlights the main misconceptions about feminism in the media.
The fact that this teenager is a Muslim speaks strongly about the fallacy of common Muslim women's stereotype as submissive and brainwashed victims.
She notes that often feminism is mistakenly given the wrong connotation and that this is affecting the way women and young girls relate to the concept entirely, with (ironically) many of them rejecting the label of "feminist". This phenomenon includes seemingly "empowered" women celebrities such as Katy Perry, for example, who recently declared in an interview "I am not a feminist". This is indeed very sad, considering how young girls look up to these celebrities.
Why would women and girls feel TODAY the need to distance themselves from a movement that has done SO MUCH for advancing women's social inclusion, human rights, freedom and self-respect?
Do they actually know that feminism' s main goal is to reach gender equality?
From many recent magazines articles I am reading, I don't think it is so. The word "feminism" is now more and more commonly associated in very radical terms with misandry. We should make a constant effort to change this wrong conception and give feminism the glory it deserves. Girls should not be fooled into confounding the two concepts: if it's required that to change their false assumptions we need to plaster public walls and post pictures like the one above in every social media outlets, so be it!